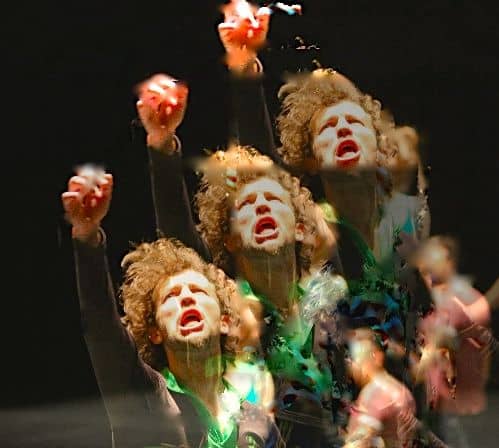 20 Jun

The Passion of Andrea 2 selected for Choreodrome and Tanzmesse Open Studio

I'm thrilled to have been selected as one of The Place's 2018 Choreodrome artists to start developing my new work The Passion of Andrea 2 (working title). Equally thrilled to present this idea in an Open Studio Sharing at the Tanzmesse in Düsseldorf this summer (come along if you're there, 31st, 17h30), and thrilled thrilled thrilled to have the inspiring KLAP Maison pour la Danse as a partner! Finally, I am deliriously happy to have found a dream team to perform this baby!

The Passion of Andrea 2 (working title) is inspired by feelings of insecurity and confusion in a world of growing competition, suspicion, and the memory and escalation of conflicts past and present.

Sounds familiar? It is explicitely based on an unfinished version of a piece with the same title from 2016, around the ephemereal presence of which three dancers claiming to be called Andrea try to construct a new piece. Ah yes. I've always wanted to make a sequel to – or a controversial copy of – one of my own works.

The piece addresses the impossibility to fully understand, and the need to take a stand in spite of this. Who is Andrea, and if yes, how many? Is the desire for dialogue and understanding really impossible? How tobe sure of oneself in an ever-transforming and increasingly threatening present?

Concept and direction: Simone Mousset

Performers: Luke Divall, Lewys Holt, Mathis Kleinschnittger

Research and development: Amelia Emma Forrest, Raisa Kröger, Michele Meloni, Andrea Rama, Elisabeth Schilling.

Dramaturgical support: Thomas Schaupp

Artistic support: Koen Augustijnen, Renelde Pierlot

Production: Simone Mousset Projects (LU)

Co-Production: KLAP Maison pour la Danse (FR), Grand Théâtre du Luxembourg (LU), CAPE (LU).

Funders and supporters: The Place, Choreodrome 2018 (UK), Trois C-L Centre de Création Chorégraphique Luxembourgeois (LU), Maison du Portugal André de Gouveia Paris (FR), Dance City Newcastle (UK).